A lot of changes have taken place at Close To Clothes this year! A little preview?
Our stand at Première Vision: a unique stand for a striking duo, Close to Clothes-Dorlet
Once again, we kicked off the year with the emblematic Première Vision textile show, from February 8 to 10. For this year's event, we've decided to meet you on a brand-new stand, created in collaboration with Dorlet, a company specializing in the design and manufacture of metal accessories. We've been friends for a long time, and after a number of collaborations, we've decided to make our partnership official.
We started from the simple observation that our offers complemented each other, and that we could often be asked to supply different types of product for the same brand. So, sharing the same ambitions of environmental commitment in the development process of our respective products, it's only natural that we wanted to share the Première Vision experience, and accelerate the adventure we began over 10 years ago.
We look forward to seeing you at the next edition, from July 5 to 7, 2022.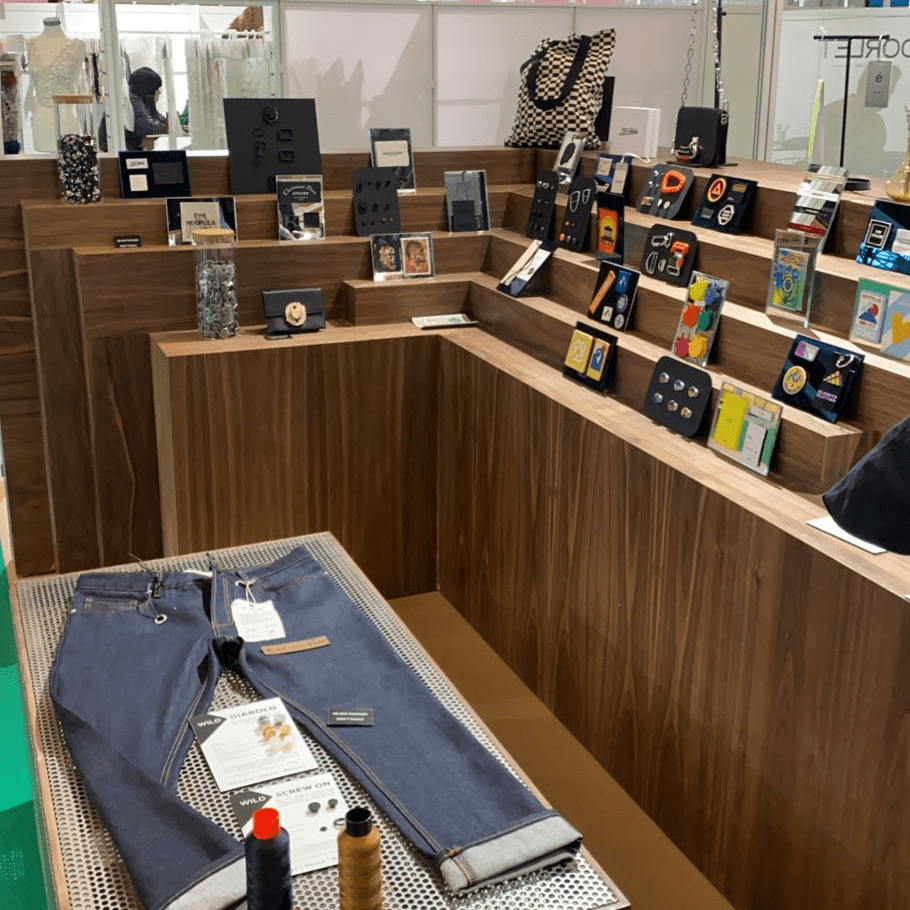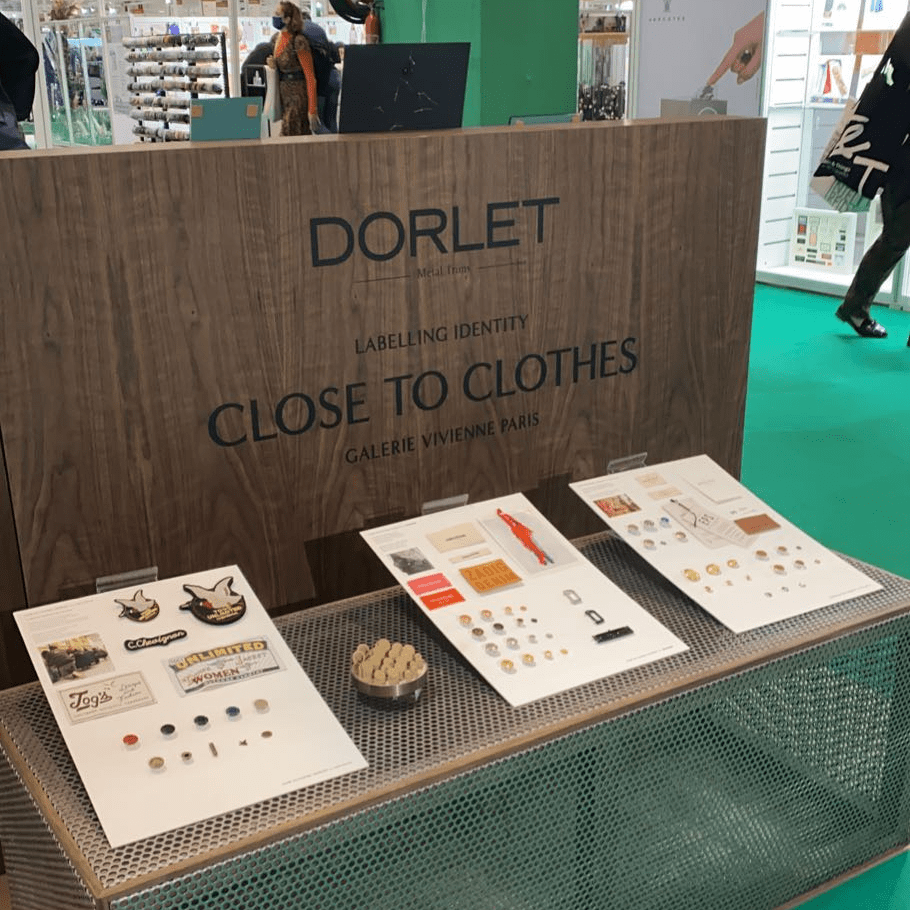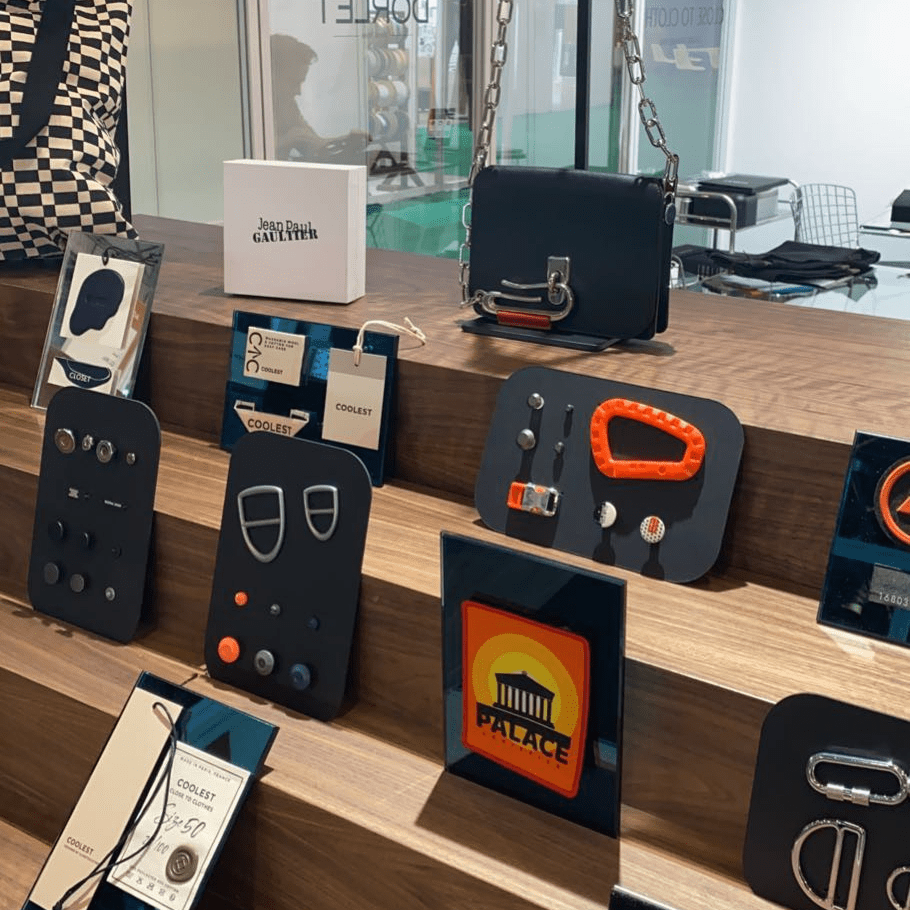 For Close to Clothes, certification is more than just a token of our commitment!
Our OEKO TEX 100 certification
This year Close to Clothes has taken another step on the road to eco-responsibility, obtaining OEKO TEX 100 certification, class 1 in its own right.
What does this certification mean?
Products bearing the OEKO TEX Standard 100 label are free from harmful substances, and do not use any during the entire production chain. Class 1 certification is the most demanding, since it attests to the absence of risk in the use of our products for children under 3.
Our factories were already certified, so it's a real source of pride to bring these values to the CTC brand!
A growing family
Our team has grown a little more to meet our desire for commercial expansion!
Last November, we introduced you to our new English salesman, Paul , who has enabled us to open up even more to the British market.
This month, we'd like to introduce you to the two new agents who have joined our sales team, Robert and Andreas, Dutch and German respectively.
– Robert, center, is an entrepreneur at heart, as well as the proud father of 2 daughters. Initially head of retail at G star, then founder of GRWN Consultancy, and I Like Denim, he has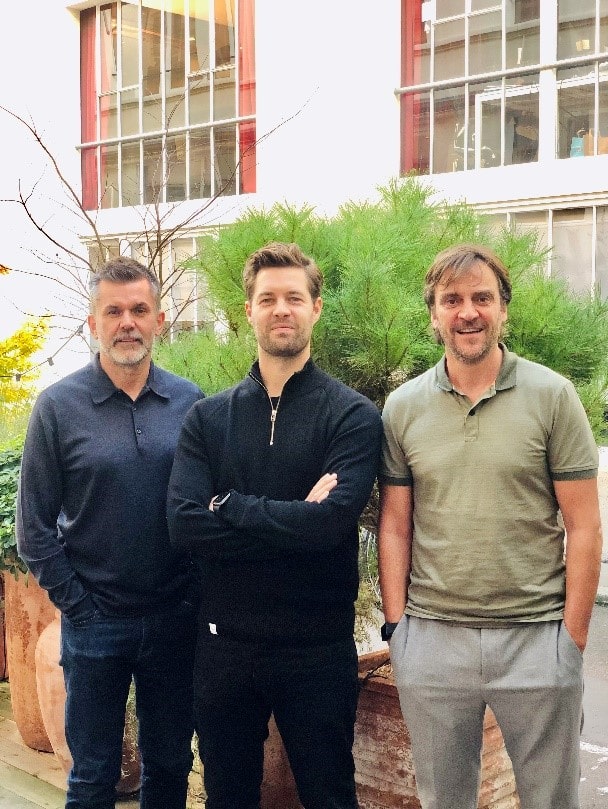 He joined us last June, and with his good humor and commercial spirit, contributes to the success of Close to Clothes. We can't wait to introduce him to you!
– Andreas (known internally as Andi), on the right, has an impressive track record! He spent 4 years as Area Manager at Quicksilver, before setting up his own consultancy firm specializing in fabric and denim production and sourcing. With a wealth of experience in project development in the sector, and a deep commitment to eco-responsibility, he's making his contribution to Close to Clothes in terms of his career prospects. Enthusiastic, he loves to devote his free time to bike rides and cooking! He brings an extra dose of craziness and whimsy to the Close to Clothes team.
We're delighted to have them on board, as they open up new international opportunities and enable us to extend the Close to Clothes offer to the German and Amsterdam markets!
Welcome on board!
Limitless creativity
At the start of the new year, the Close to Clothes development team reveals new themes and collectibles.
Constantly on the lookout for innovative and inspiring themes for your collections, we develop our own to bring you even more ideas.
A la carte this month, we have designed for you :
New technical pieces to complete our sneaker theme. Perfect for dressing up your streetwear and outwear products and creations. From phosphorescent to heat-sensitive to reflective, innovation was at the heart of our objectives for this theme.
A "BIG" sportswear and technical theme, mainly for men. We used a photographic weaving technique that blends vintage and modern. This theme immediately transports you into a 90s skateboard vibe.
A theme inspired by the Fear of God brand, with the ambition of revealing a masculine and creative side. These products are simple with their cotton base, but technical with their silicon print, which adds a certain relief to the product.
Take a look, you'll love it!
Stay tune! Next month, we'll be bringing you the rest of our new collections. The program includes premium and luxury themes that we hope will win you over.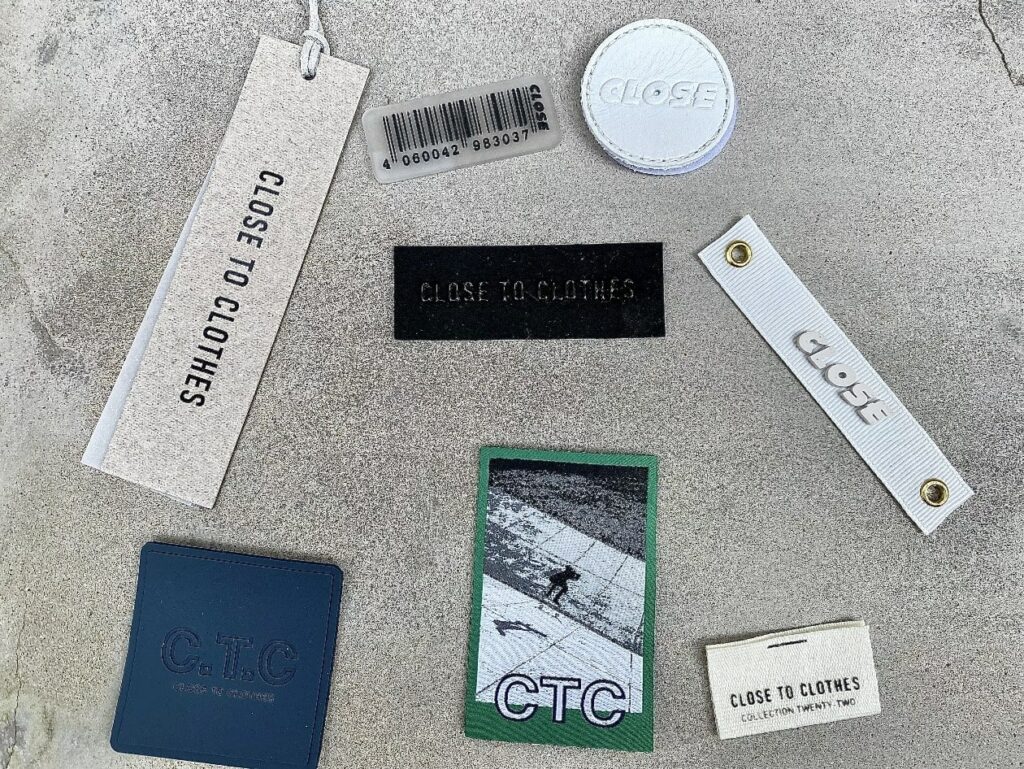 Behind the scene :
Discover our Italian factories!
A short while ago, Jeremy Ayache, our founder, Constance Hibon, General Manager, and Mathilde Bantigny and Marie Heimburger, our Development and Purchasing Managers respectively, flew to Italy to meet our partner factories.
On this occasion, we were able to shoot 3 films to introduce you to our Italian-based employees, their know-how and their commitment.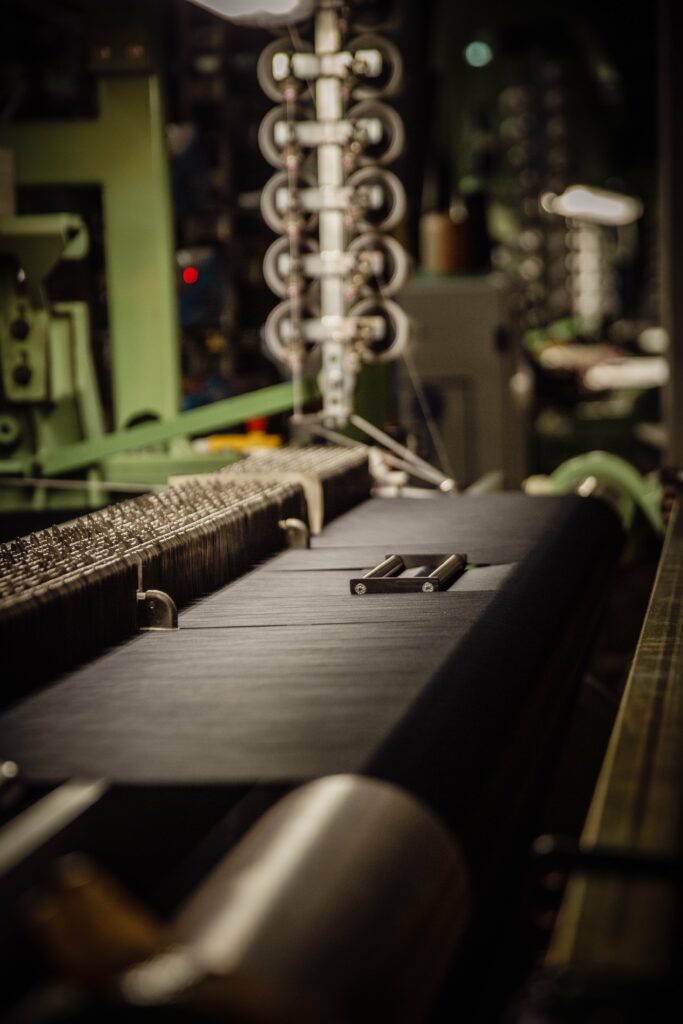 Our plants, based in Corropoli, Carpi and Bologna, each have their own expertise. One deals with woven products, the other with leather goods and the last with prints.
Find them over the coming weeks on our Instagram account via our front-page stories, as well as on our LinkedIn page.
Close to Clothes evolves
To optimize navigation on our website, we've decided to make it more interactive.
To this end, we've added new tabs and clickable images, redirecting you to a more in-depth presentation of products by type.
Here you'll find a list of the products we offer, a description and several inspiring customer production models.
We've also chosen to relay our latest news in a Blog section of the site, allowing you to consult our progress, creations and collaborations at any time.
Take a look at this new tab and discover our latest news.
"To be informed is to understand the future" Anthony R.
DE FURSAC
Ready-to-wear brand De Fursac, a long-standing Close to Clothes customer, recently decided to call on us to redesign its graphic identity.
This act of trust is very important to us, and our development team has seized the opportunity to create these products!
You will find below, from left to right, the old charter and the new one:
Hangtags
Behindthis simple design lies strong technical research.
The first panel features UV printing to give body and relief to the lettering.
A second neutral leaflet, in a darker shade,
When the two panels are superimposed, they appear identical, yet their doubling reveals an unexpected, delicate contrast of color that enlivens a seemingly simple labelling.
The devil is in the detail, and CTC is an architect of detail.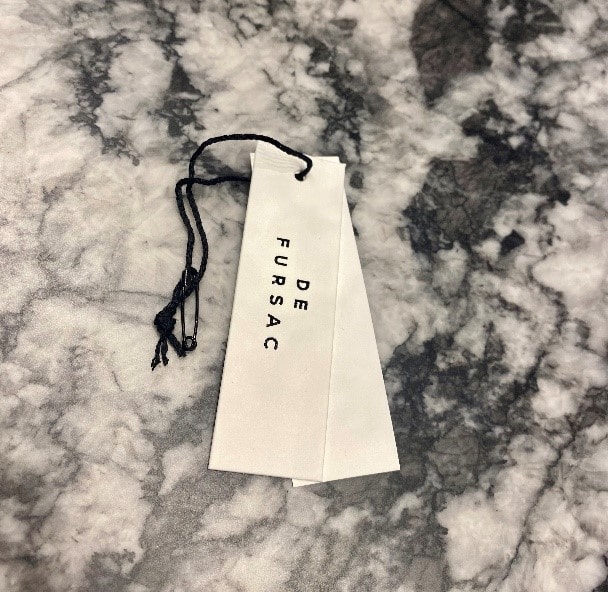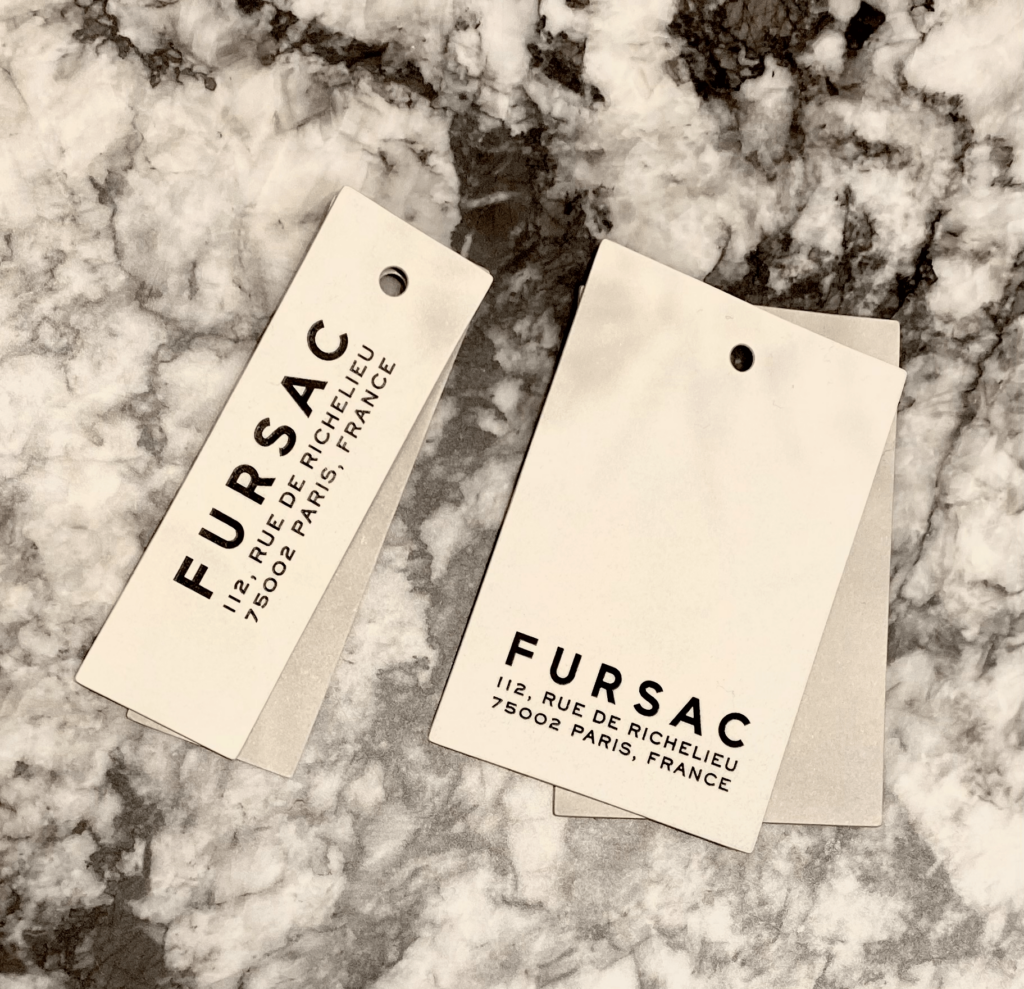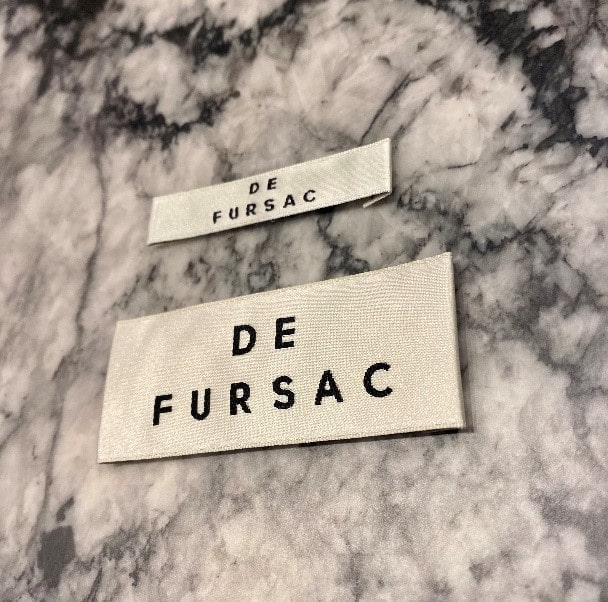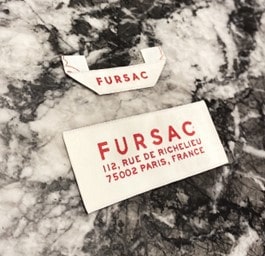 Woven claws
You know how important eco-responsibility is to us at Close to Clothes. Here we have 2 examples of woven claws belonging to the new Fursac charter.
Both are made from recycled polyester, using 59% less energy than virgin polyester and 94% less water.
Particular attention was paid to the use of high-definition lettering, enabling the letters to harmonize with each other, and this was measured to the nearest rounding.
To intensify the beige color and contrast with the red lettering, we made the strategic choice of a double weave background, which avoided a pinkish effect across the entire claw.
A great performance!
Thank you for these rewarding and challenging collaborations!
See you soon,
The Close to Clothes team
Vous avez un projet ? Contactez-nous !
CLOSE TO CLOTHES
PARIS
25 RUE D'HAUTEVILLE
75010 PARIS, FRANCE
TEL: +33 (0)1 42 96 00 92
FAX: +33 (0)1 49 27 01 56
CLOSE TO CLOTHES
ASIA PACIFIC
UNIT 04 4/F JOIN-IN HANG SING CENTRE
2-16 KWAI FUNG CRESCENT
KWAI CHUNG, N.T.,
HONG-KONG
TEL: +852 3621 0388
FAX: +852 2758 5199
CLOSE TO CLOTHES
BLUE LAB
BELLAMYPLEIN, 54
1053AT AMSTERDAM
THE NETHERLANDS
GOLLIERSTRASSE 14A
D – 80339 MUNICH
GERMANY