Jean Paul Gaultier x Lil Nas X
Our collaboration with Jean-Paul Gaultier is growing stronger and richer: we're very proud to have produced his generic labelling this year! The brand has entrusted us with the creation of its label and Hang Tag and has relied on relief: double threading for the weaving and embossing for the paper to highlight its new logo.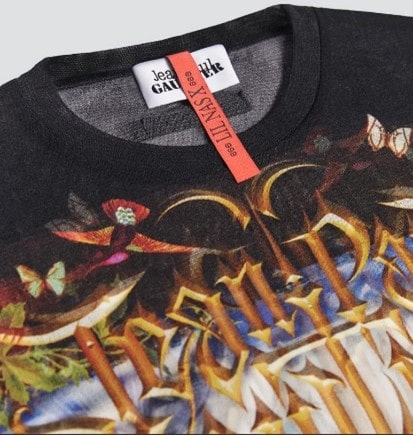 Jean-Paul Gaultier also challenged us throughout the year on various developments. These include the "Les Marins" collection, with printed claws and over-size claws using special techniques such as photographic weaving. And last but not least: the exceptional collaboration with LIL NAS X!
For this secret, limited-edition project between the brand and the artist, we created 666 numbered claws like the devil's numbers.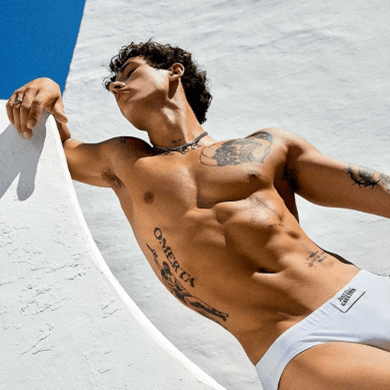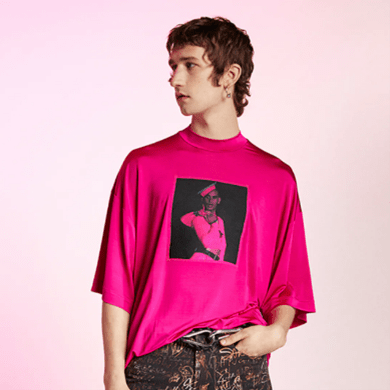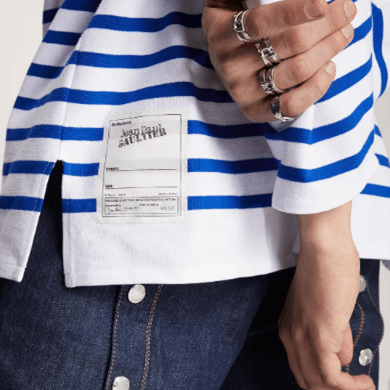 I can't wait to discover and participate in the new projects of Jean-Paul Gaultier, a brand that is intense, committed and daring!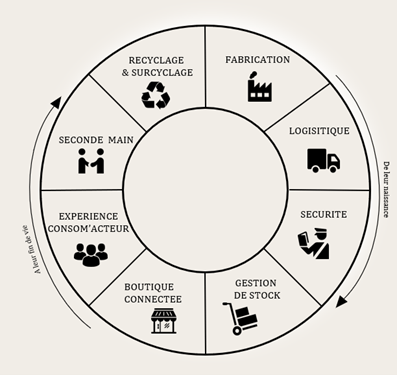 Sail away to the Blue Ocean!
With the idea of continuing our development towards holy and fertile horizons, we set out to find less competitive areas, to reach our "Blue Ocean". This concept, developed by W. Chan Kim and Renée Mauborgne, aims to anticipate consumer needs in order to secure a sustainable position in the market.
So, after 1 year's work within our teams, we came up with 6 possible development solutions.
We presented them at a playful conference on September 8, to a large and varied gathering of industry players. Thanks to them, we've chosen one of the most relevant to the current and future challenges facing the textile industry: the Smart Tag. This new offer allows you to take the creation of your labelling a step further by integrating a means of garment authentication. The Smart Tag thus offers the possibility of authenticating the part to manage stocks and limit counterfeiting, fraud, sales and resale. What's more, Smart Tag offers a wealth of potential for development, covering the entire product lifecycle.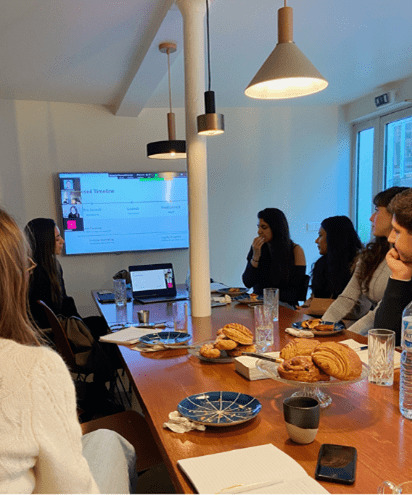 To speed up the implementation of this new offer, we had the opportunity to work in collaboration with ESCP students and The Woolmark Company to develop a new intelligent and ecological approach.
This partnership experience enabled us to take our research a step further, thanks to the creative ideas put forward by the students. Our ambition is to offer you solutions in line with your concerns by 2022.
Maje x Varley
After several years working alongside Maje in the creation of its labelling, we are now involved in the creation of the labelling on the occasion of its collaborations, most recently: Maje x Varley! The meeting of these two brands with strong identities offers a pop, fresh and contemporary collection, which encourages dynamism in these cold times.
Very happy to have taken part in this collab and always ready and delighted to accompany Maje in its new adventures.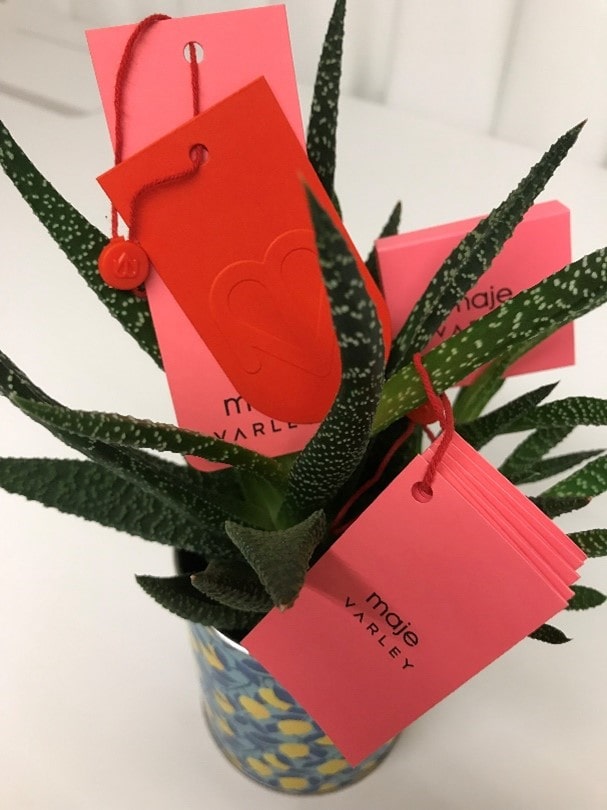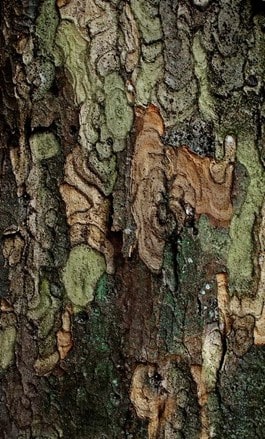 Enhancing our CSR
At Close to Clothes we want to innovate and act for a more sustainable world. For example, by 2021, we will have all our partner factories sign up to the Restricted Substance List, committing them to stop using environmentally harmful manufacturing substances. This list sets our standards above and beyond the expectations of current certificates and standards. It's all about staying ambitious for a greener future.
To guarantee the reliability of our approach. An independent laboratory is commissioned to randomly verify that the quality of our products meets the expected level of commitment. This control system is a guarantee of our commitment.
Last but not least, Marie, as Purchasing Manager, is constantly on the lookout to ensure that our products comply with RSL requirements and OEKOTEX certification. To date, Close to Clothes is in the process of obtaining its own OEKOTEX certification.
Welcome David Koma!
We are delighted to have had the opportunity to collaborate for the first time with the prestigious British luxury ready-to-wear brand: David Koma! This young, fast-growing brand, which attracts particular attention for its chic, sensual creations, has now entrusted us with the development of their labelling. Labels, Hang tags, stickers, tissue paper and packaging: we put all our know-how at David Koma's service to help him produce his labelling, paying particular attention to the fine details and quality of the product, which must be exceptional.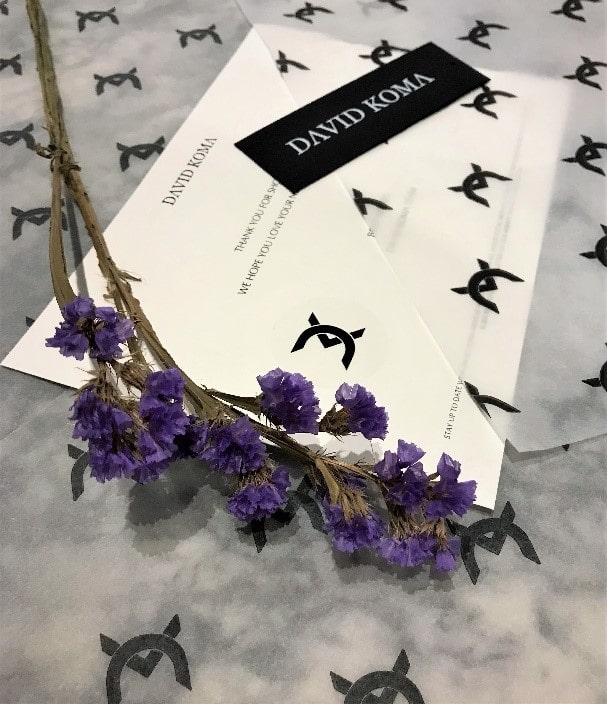 We're proud to work with you to create a quality labelling system that reflects your image.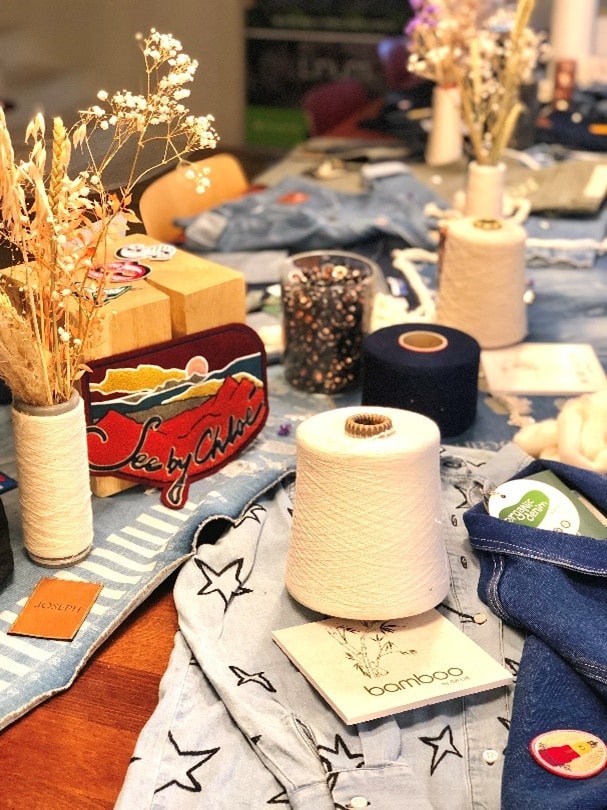 First edition of the Denim Fair
The first edition of the Denim Fair took place on our premises on November 9. On this occasion, you could come and meet us and other partners in the sector to discuss a timeless wardrobe staple: denim! Listening to you were: Jeanologia, a Spanish company specializing in ecological technologies and eco-efficient production models, and world leader in laser denim washing; Dorlet, our long-standing partner specializing in trimmings and metal accessories since 1928; Evlox, a passionate denim maker for 170 years; and finally L'Indigotier, an expert in eco-responsible denim to help you turn your commitments into reality.
We all came together to offer you a wide range of committed denim solutions. In particular, you were able to take part in the conference presented by Evlox on eco-responsible denim. Denim is an emblematic piece that's full of challenges that we want to meet without distorting it.
We hope to see as many of you at the next edition as we did this year, for the Denim of Tomorrow.
Vous avez un projet ? Contactez-nous !
CLOSE TO CLOTHES
PARIS
25 RUE D'HAUTEVILLE
75010 PARIS, FRANCE
TEL: +33 (0)1 42 96 00 92
FAX: +33 (0)1 49 27 01 56
CLOSE TO CLOTHES
ASIA PACIFIC
UNIT 04 4/F JOIN-IN HANG SING CENTRE
2-16 KWAI FUNG CRESCENT
KWAI CHUNG, N.T.,
HONG-KONG
TEL: +852 3621 0388
FAX: +852 2758 5199
CLOSE TO CLOTHES
BLUE LAB
BELLAMYPLEIN, 54
1053AT AMSTERDAM
THE NETHERLANDS
GOLLIERSTRASSE 14A
D – 80339 MUNICH
GERMANY